Reading Time:
4
minutes
Doing something as little as painting the walls of your bedroom can make a world of difference in the way that space appears. While painting the walls does help a lot in adding more drama and visual interest into the room but creating accent walls intensify things even more. Having an accent wall in the bedroom not only helps to add more depth and color into space but also creates a focal point in the room. And when it comes to choosing the finish of the accent wall, the number of variety and options may confuse you a bit. No matter, what you choose, creating an accent wall takes your home interior game to a top-notch level. To assist you in creating a beautiful accent wall for your bedroom, we have laid some options for you that will give your home an interesting and stunning makeover. 
Wall Ideas to add Visual Interest to Your Bedroom
Color paint an accent wall
Like we said before, painting the walls of the room does its part in enhancing the appearance of the bedroom but creating an accent wall by color and painting it in a different and eye-catching shade spice things up quite easily. Opt for latex or water-based paints in eggshell, satin, or semi-gloss finish. For deciding the color in your bedroom, you can either keep things flowing by choosing for a shade that matches the other elements present in the room or you can go the bold way by picking a color that creates a contrasting effect with the rest of your room. For instance, you can add more depth and visual interest to your all-white room by painting one wall in a bejeweled tone to spice things up in your bedroom.
 

Add a faux finish
If you are looking to add some serious personality and drama to your bedroom, look no further than the faux finished wall to do the trick for you. What faux finish basically does is, it mimics another material and adds a beautiful texture or decorative pattern to the accent wall. To give you a better idea of how this faux finished accent wall works, we are giving you an example of a color wash technique that is basically a decorative paint technique that can make the walls look like they have been given a marble or stone treatment. There are many other techniques that can boost the visual interest of your bedroom.
The power of wallpaper
If painting an accent wall or mimicking different materials doesn't appeal to you then adding wallpaper on the accent wall can be your safest bet. It is probably the easiest and most reliable way to treat your accent wall and add more character to your bedroom. Luckily, wallpapers come in many different options, from floral wallpaper to patterned wallpaper, you can pick the one that looks the best to you and matches the theme of your room as well. 
Use wall decals and stickers
If you thought that wall stickers and decals were only supposed to be used in the nurseries then here we are proving you wrong. Decals and stickers can look as chic and amazing in adult bedrooms as they would look in nurseries. The size of the stickers and decals can vary from as small as a bunch of flowers arising from your headboard to as huge as life-size murals. Regardless of what option you go with, adding stickers and decals to your accent wall works wonders for your bedroom. The best thing about these stickers and decals is that they are relatively easy to remove and you can also move them around whenever you feel like changing them. 
Wood paneling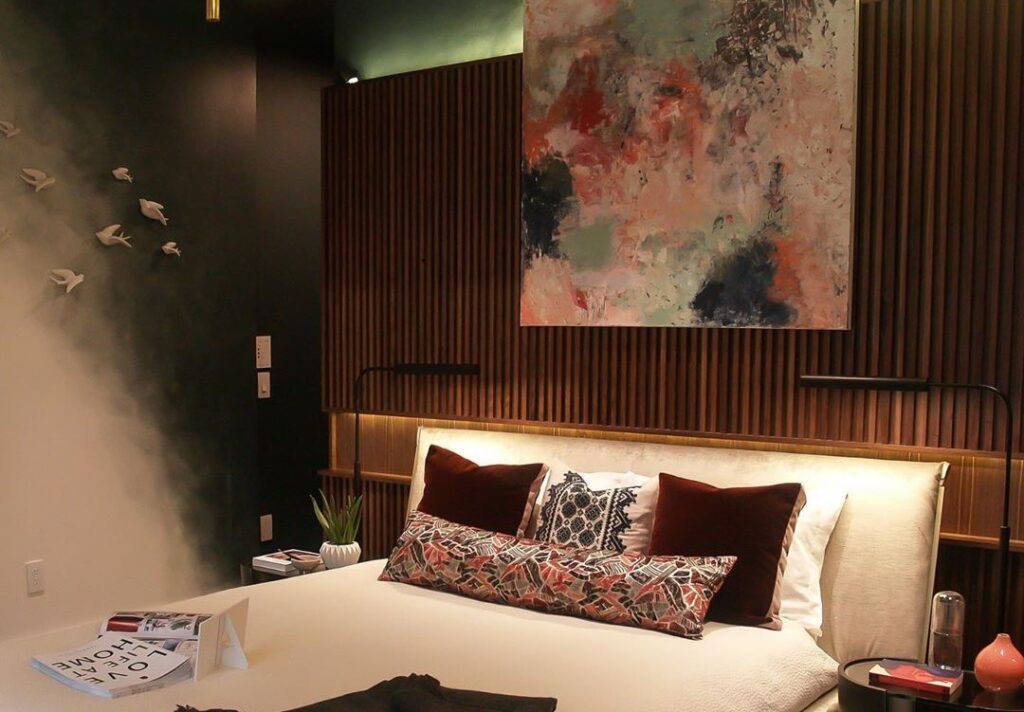 To give your bedroom a unique and modern update, you can consider adding wood paneling to the accent wall of your bedroom. No matter the size of the area you have covered with wood paneling, having a wood-paneled accent wall will add certain charm and coziness to your bedroom. You can use these wood panelings in both traditional and contemporary bedrooms, coming up in some of the freshest and modern designs.