Reading Time:
3
minutes
Do you want to give a brand new clutter-free makeover to your tiny home? If yes, then this décor blog has brought the best ideas that you can try out to enhance the spacious and clutter-free look of the home effortlessly. Today we are here with some efficient interesting organizing ideas that will help to make your tiny home more appealing. So, if you want to grab all the details about the makeover of the small space in a clutter-free manner then you can surely go through this décor blog. With the help of some smart and clever organizing ideas, you refresh your small space into a brand new spacious spot for living.
If you want to make your small space look more fantastic beautified and clutter-free then this décor blog has got the best information for you. We won't waste your much time you can simply check out the details that are given on this blog for decorating small spaces. Well, giving a clever clutter-free look to the home can easily make the entire space more presentable, stylish, and airy then you can surely collect all the clever décor tips served on this exclusive article.
Amazing Tips To Organize Small Spaces
Under Bed Cabinets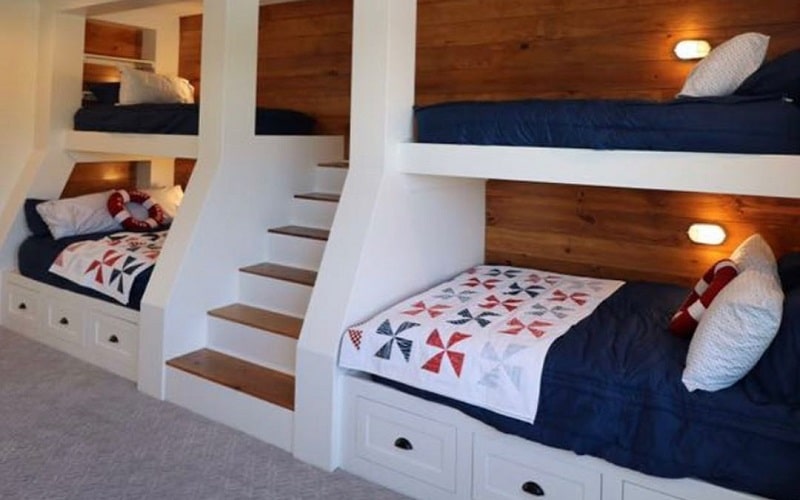 Under-bed cabinets are one of the best cabinets that can help to save more space and will help to create better space for storage. This is one of the smart ideas for creating extra storage space in the home. Also, these cabinets can create good space for storing clothes, shoes, and other storage-related goodies for saving space, and yes this idea will help to make the space more airy, breathable, and comfortable for living. Therefore, you can surely install the best under bed cabinets to make space look more organized and spacious.
Blanket Ladder
To make your space more quirky and attractive you can keep a blanket ladder in the bathroom and bedroom for hanging towels, blankets, and robes. This idea can help make space look more embellished and beautified. You can surely hang the bedding fabrics on the blanket ladder to make space look more outstanding and attractive in terms of modern home décor. This idea can easily make your tiny spaces more comfortable and beautified in a better way to make the entire small space look attractive.
Floating Shelves
Floating shelves are one of the best kinds of modern shelves that can help to make your space look more sleek and stylish. For these small spaces floating shelves can work as the best storage shelf where you can decorate and store extra products. Also, these kinds of shelves will help to save space in a better way to make the entire space look more attractive and stunning. Therefore, you can surely try out this idea and enhance the clutter-free organized look of the home effortlessly.
Use Storage Baskets
If you want to create better and extra storage space in your tiny home then you can use storage baskets for keeping laundry items, clothes, and other products for making space more clutter-free and breathable. You can surely bring home these amazing baskets for creating better storage space and of course, this creative idea will help to make your space more cleanly clear and attractive. Therefore, you can try out this idea for creating a better space for storage and also for making the entire tiny space look organized and appealing.
Therefore, these were the best and clever tips for organizing tiny spaces in a better way. Thus, we hope that this article has offered you the best information about tiny space décor and if you want more information then you can surely visit our website.
Read More: Industrial Makeover Tips For Small Spaces