Reading Time:
4
minutes
There is no great time to look around your home and deciding to change its decor for a complete revamp. You can do that any time of the year you want so that there is an up-gradation in the overall look of the house. From the walls to the furniture styles to bathroom tiles and kitchen cabinets- everything can be changed for the better. All these styles matter because every corner in the house must look aesthetic. There are a lot of big and small things that you can do to get your home in line with the latest trends in decor. These trends are not only worthy of the present but will actually last longer than you think. Just make sure that you try something new and use these raging decor trends to fit the aesthetics of your home.
Decor trends that will make your interiors outshine
Kitchen: Color Pop Cabinets
An all-white kitchen with wooden cabinets is the most mainstream kitchen style. We have been seeing this one since forever and it has managed to stay intact for a really long time now. If we talk about trends, there has been an improvisation in this style as well. Ditching the mainstream cabinets and adding a dash of color to them is the new-found love. Opt for this colored cabinets trend and add a vibrant atmosphere to your kitchen. These colored cabinets are actually a great choice for your kitchen because they will attract the most attention whenever someone enters your kitchen. Bright colors like red, navy blue, bottle green, and even mustard shades are a great choice for your kitchen cabinets. This is a really great way to add visual interest to your kitchen space and make it a beautiful one.
Blank Walls: Floral Wallpaper
Wallpapers are a great way to add visual interest to your space and make it look pretty in no time. Any blank wall that has nothing on it can easily become the center of attention with this floral wallpaper. Just how much we love floral prints in clothing, this floral wallpaper on the wall will also be a loved decor idea. It has that charm and vibe to it that makes us feel close to nature. Pick a floral wallpaper in multi-color designs like a dash of pink and lavender with green and blue. You can also go for light colors and pastels to showcase a pretty pattern in the living area wall. The power of a floral wallpaper is such that you will continue to love this pretty pattern for years to come. It will never bore you and never make your area look dull. Bold prints are also a great option if you have an eternal love for floral.
Living Room: Curved Sofas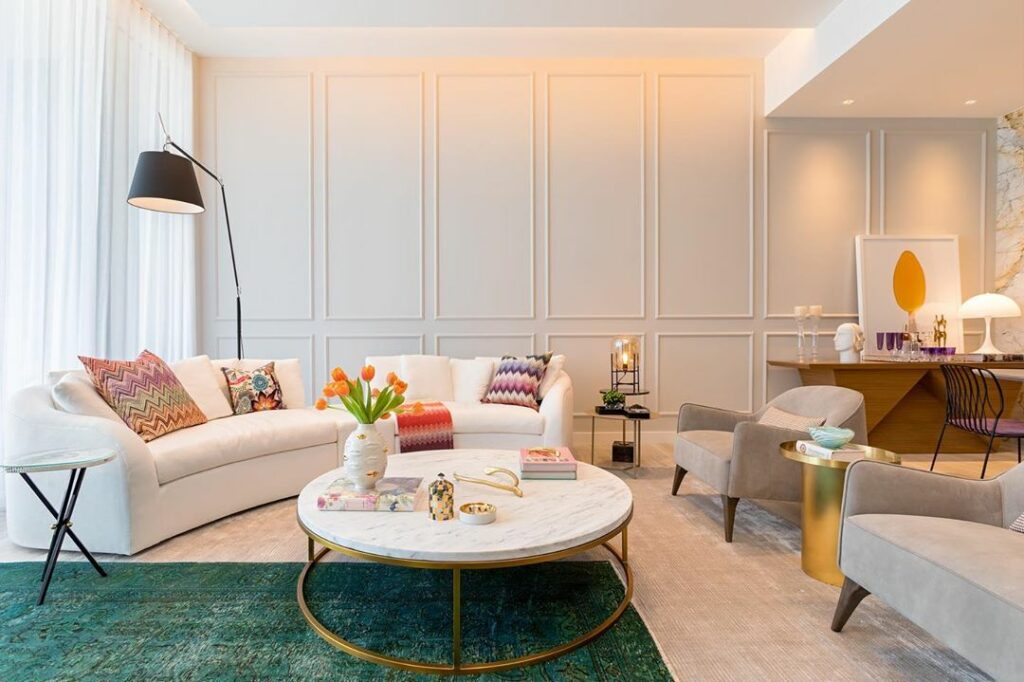 This home decor trend is something we are all loving because of great aesthetics. Any kind of decor trend looks fascinating if it has a touch of creativity to it. And the best thing about this sofa is that it is itself a piece of creativity. The way it has been designed in a curved way is actually amazing and adds a lot of vibe to the area it is placed in. With a modern twist focusing mainly on the lines and curves, this sofa has proved to be one of the best picks in furniture. Place it in your living area just next to that floral wall or next to the window. You can also place it in the garden area for a great entrance. Anything in furniture that is away from the mainstream has the potential to revamp the look of your house.
Bedroom: High-contrast Bedsheets
A bedroom is a place where we spend most of our time. It should look pretty and should have a dash of our personal touch so that there is a feeling of warmth in it. Bedrooms are supposed to look pretty and aesthetically driven so that you feel contented and protected in them. Paying attention to the type of bed for your room is something that everyone does. But paying attention to the bedsheets is equally important. Give your bedsheets a high-contrast spin with bright colors and bold prints in vivid tones. This decor trend might look like it will outshine in the room and look too much over the top. But actually, it creates balance and makes an impact on anyone entering the room. This high-contrast bedsheet will be the most vibrant element of your room!