Reading Time:
3
minutes
Food items are a decoration in themselves. They grab attention like anything in this world and are as luring as ever. One can't miss out on talking about food when food is in the room. Such is the capacity of food.
So why not try styling them as potential décor items too? Style as you eat and show what your taste is actually. Nope, we are not talking about food wastage, just displaying the things that are part of your eating habits that you can't get enough of. The following ideas will help you figure out how you can decorate your house with simple things like food. These will also give an idea of utilizing simple things for décor when you don't have anything ready as such for the purpose.
Food Items That You Can Use for Décor
Grain Stalks
You can choose either barley, wheat, or rice stalks for this one or have a customized combination, whatever seems nice to you. The long stalks with earthy and beige tones will make up for a great addition to the vases short to medium to long to very long in size. Let them sit in one corner in beautiful vases of your choice in any given space, at the bedside, across the hallway, in the drawing room, in the library, etc.
Wine Bottles
Wines are a delicacy loved by all and come with different pricing ranges. Many like to keep the bottle with them and often display it in drawing rooms or kitchens because they give a sharp yet warm look to whatever space they are kept in. The bottles are sleek in various colors, dark or see-through, you are sure going to be a hoarder of yet another random stuff!
Rack them in the kitchen along with some non-greenhouse plants.
Donuts and Cupcakes
These delicate sweet options are a great way to beautify any space. They look colorful and fun given how pretty they are made to look to the potential devourers. One, they will grab attention very quickly, and second, your guests will love nibbling some of that. If you are the baker yourself, you are sure to feel great having your art displayed in glass trays or woven baskets.
Fruits Bowl
In case you have a healthier preference in terms of what you put into your body and fruit bowls are your go-to, then this colorful and vibrant lot can very well décor a space. But a major rule here would be to keep replacing them while you eat them because fruits tend to go bad much faster if you leave them outside. This décor is utility-based. Just pick up any of your favorite fruits that you have daily and decorate them in a suitable basket.
Pumpkins
Huge orange or otherwise painted pumpkins are everyone's go-to décor item for Halloween festivities. Pumpkins look highly aesthetic and static. They are also mess-free. If you don't want it to get your pumpkins to spoilt, keep them clean and avoided carving them out. You can buy some artificial ones that have some scary carving done on them.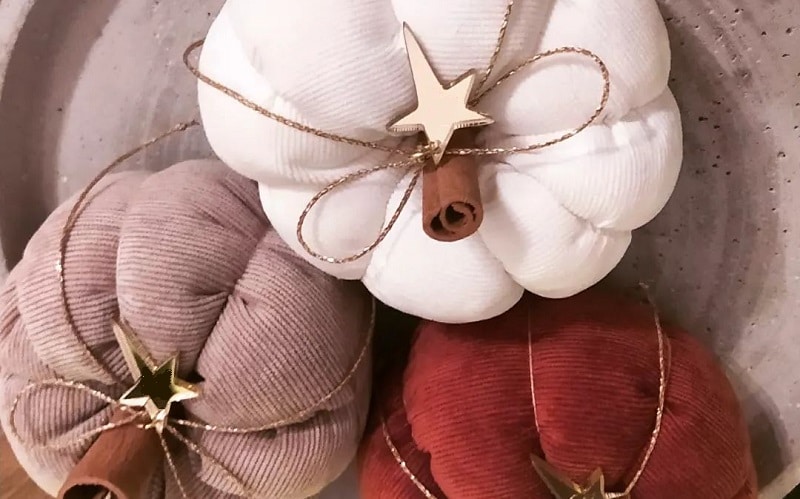 Apart from the above 5 suggestions, you can also opt for a small kitchen-based garden that grows little herbs that you would need regularly while you cook some deliciousness. Around the kitchen cooktop, kitchen window, or around the sink, wherever it gets the sunlight it needs. This idea will deliver some green addition making your kitchen look freshened up, lively, and moving.
So these were some unique ideas to decorate your sweet home through food items that are generally as unique as décor items.