Reading Time:
3
minutes
Want to give a new and fabulous record to your gazebo? If yes then we are here with excellent decor ideas that will give a new look to your gazebo. You can make your gazebo look like and an attractive spot for relaxing and enjoying the outdoor beauty of nature. With some simple and attractive decor ideas you can transform your outer space into a stunning gazebo, therefore style your simple gazebo into a calming spot for enjoying personal time. If you want to know more about the top ideas for gazebo décor then you can surely go through this amazing blog and read more about gazebo décor.
Well, enhancing your outdoor space can be a little tricky but now you can easily highlight the stylish look of your gazebo. If you want to try out some quirky décor ideas and want to give an eye-catching look to your outdoor space then you can go through is a blog and get every detail about gazebo décor.
Hang The Flowerpots
If you want to give easy and quick décor to your gazebo then you can hang planters on the structure to have a floral and botanical feel. This decor idea will help to boost the appealing and contrasting look of the outdoor space also hanging planters will work as a stunning accessory for the gazebo. If you want to hang other plants like a string of pearls and floral vines then they could also work out as the best natural accessory for gazebo decor. This hanging plant idea can improve the amazing look and design of the entire outdoor space and make it work as a perfect space for relaxing.
Gleaming lanterns
If you want to have an attractive look during the night, and want to create a gazebo as the and perfect place for romantic dining then you can hang some nice lanterns and string lights to have a fairytale style look of the gazebo. You can also hang bottle lanterns that will boost the fancy look of the space. Also to boost the stunning look of the gazebo and turn it into a perfect place for dining during the night time, then adding lanterns can be the best thing. If you want some interesting source of light in the gazebo space then you can also install stylish and gorgeous fancy gleaming lights.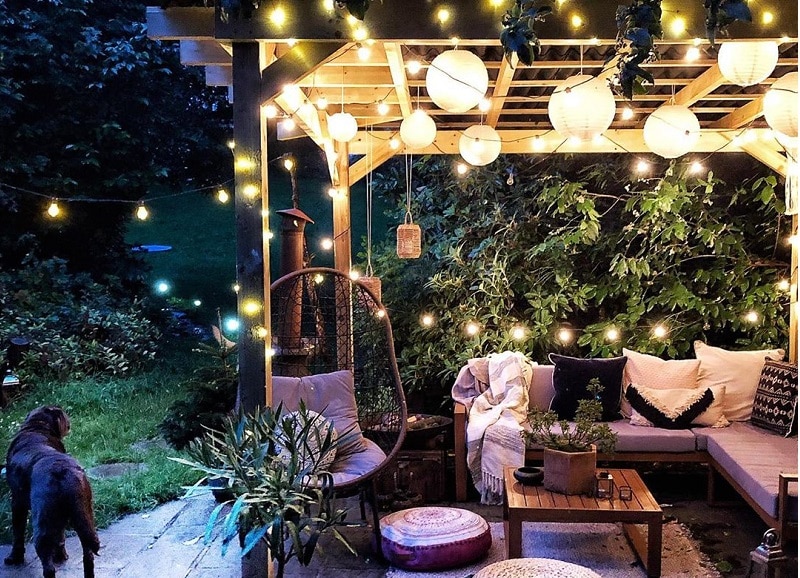 Hanging Beautiful Accessories
Decor items like sun catchers, dream catchers, birdhouses, and graceful wind chimes can work out best for highlighting the look of the gazebo. Yes, this kind of accessory can make your gazebo look more attractive and pretty. These hanging elements can boost the eye-catchy and attractive look of the space and if you hang a wind chime the twinkling sounds will surely create a relaxing environment and atmosphere around you. Therefore to highlight the look of the gazebo and you can try out hanging these accessories and make it look like an elegant space for resting.
Decorate With Other Elements
If you want to give a nice and sophisticated look to your gazebo, then you can tie white drapes to have a soothing look of the gazebo. Also to make it look attractive you can grow some flower plants near to your gazebo area that will make it look like a perfect place for resting. Moreover, to make your gazebo look like an ideal spot for enjoying your private time, you can add some string lights that will help to create a soft and aesthetic vibe in the evening time. Also, you can decorate your gazebo with candles to have an aesthetic look of the space. Therefore, try these ideas and make your gazebo look like and a perfect spot for relaxing.
Well, these were the most essential and easy ideas that you can try to decorate your gazebo. Hence, we hope that now you can easily follow this idea and turn your old gazebo into a fairy tale styled spot for relaxing in the outdoors.