Reading Time:
4
minutes
Your bedroom is your place and you get to style and decorate it the way you want to so that it represents you and your personality. Decorating and adding things here in the room is one this and keeping the room organized and clutter-free is another. You need to make sure you store and keep the things in an assigned position so that your room is not shabby or untidy. Making the whole room organized helps the room feel calming and comfortable. This is the place where you relax and be at ease. Make the room cozy and interesting for you so that you can rest properly and relax.
Keeping the bedroom organized, clutter-free and tidy:
1: Have a proper storage area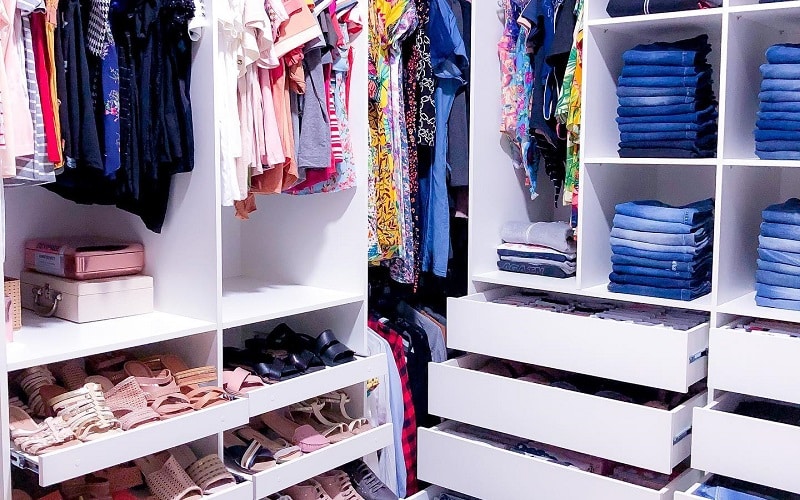 When you are looking for ways to make your room organized and clean, you should at first look for ways to store things in the room. One of the reasons why your room might not be organized or clean is because your room lack storage and the stuff is kept around in the room without any assigned area or beings stored properly. Make sure to have lots of storage areas such as the cabinets, under the bed, closet, and other areas where you can store your stuff at.
2: Use the vertical space available in the room
Always make sure to use the vertical space available in the room and install slabs of wood or shelves or wall hangers to utilize the space and create a beautiful design with it. You can create bookshelves or shelves where you can put your things such as small decorative stuff or games or other things. This way you get to showcase stuff in your room and not just store them away from everyone to see.
3: Go with suspended side tables
Suspended side tables are a new trend where you do not use the traditional side tables that are put on the bedside on the floor but use the one that gets suspended or that are hanging on the sides of the table with the help of ropes that are attached to the ceilings. This is a cute style that can be used to utilize the space below these hanging side tables or just want to add a new element and to use something different.
4: Have good lighting fixtures
It is important to have a good amount of light in the room that will make the room look and feel organized. No matter how much cleaner and organized you keep your room but if you do not have a proper light system the room will feel dull. Get some modern and beautiful light fixtures that you can install on the ceiling and create a bright and interesting room. You can also use natural light from the windows in the room and some fairy or night lights in the room to make the room organized and better.
5: Assign spaces for everything in the room
How can you organize the room if you do not have a specific place for everything? If you do not have a specific place, it will get difficult to keep the room clean and in order. So it is necessary to assign a particular place for each and everything in the room and make it a habit to use and put the thing in their assigned place. This prevents things from getting misplaced or you making a mess. This is a good way to keep things in order in your room.
Conclusion
It is important to have a clean room as a clean room helps you feel good, elevates your mood, and helps you feel energetic. It makes the room look fresh and inviting and makes you feel at ease and comfortable with the space. You need to make it a point to clean the room after some time so that there is no dust and dirt and you live in a clean and fresh environment. You can look for more ideas as to how to make the room look organized and better. Create a relaxing atmosphere in your room.