Reading Time:
4
minutes
After the bedroom, the kitchen is the most utilized corner in almost every house. Half of the activities take place in a kitchen, which includes eating, cooking, cleaning, drinking, socializing, etc. This is why having a beautiful yet practical kitchen has become so important today. No matter what kitchen design style you are following, the layout and organization are two important elements for creating a perfect kitchen. It's not just your living room that is meant to create an impression on your guests; your kitchen is also an important space in your house. Hence, it should also be decorated and designed in the most appealing, elegant, and practical way. If you are planning to revamp your kitchen for a much-needed makeover, then you have come to the right place because, at this point, you will need all the guidance that you can get to have the kitchen of your dreams. To make sure you make no mistakes while designing your kitchen, we have made a list of some renovation mistakes that should completely be avoided and some design tips to try, to ensure that you end up with a practical and elegant kitchen design.
That You Should Avoid While Kitchen Designing
Not utilizing the space properly
A kitchen typically contains a lot of stuff so it can use any kind of additional space it can get. Hence, making the use of every little corner or unutilized space in the kitchen will help you in the long run. We all know how tricky it can be to store those big appliances while still being accessible. Built-ins can be extremely expensive and also the size of the kitchen can be limited, considering these two factors, one designing mistake can easily lead to mess with your kitchen's storage space. You can consider adding extra long cabinets with molding for extra storage space in the small kitchen. Try to make use of every space in your kitchen that is not being utilized for large or seasonal kitchen items.
Not having enough counter space
In most of the cases, the biggest complaint that arises regarding the kitchen's design is the lack of counter space. Considering that all the kitchen activities involve the use of counter space as well as all the appliances that are permanently placed there, one would definitely love to have that extra horizontal surface area in the kitchen. And one great way of dealing with this situation is by adding a kitchen island or a breakfast bar in the L-shaped kitchen.
Bad lighting
Be it any corner of your house; bad lighting cannot be tolerated even if it's the kitchen because it's a matter of safety we are talking about. Good lighting is not merely limited to creating a nice environment or enhancing the kitchen design. It is also one of the key elements of creating a safe environment in the kitchen while handling sharp knives and some other tools that are potentially dangerous not to handle with care. You can consider adding the lightings above all the main work areas. Pendant lights are a great option to add to the kitchen as they only enhance the looks of it but also increase the functionality of the kitchen.
Lack of ventilation
Having proper ventilation in the kitchen is one of the most important things to consider. Just imagine how it would feel entering into a stinky kitchen filled with cooking odors? Quite disgusting right. No matter how pretty your kitchen looks, but if you don't have proper ventilation in the kitchen, then it can be a deal-breaker or a turn off point for anyone. Having good ventilation in the kitchen will help to improve the quality of your indoor air. In addition to that, it will also keep your kitchen clean and will extend the life of your kitchen appliances.
Going wrong with the kitchen island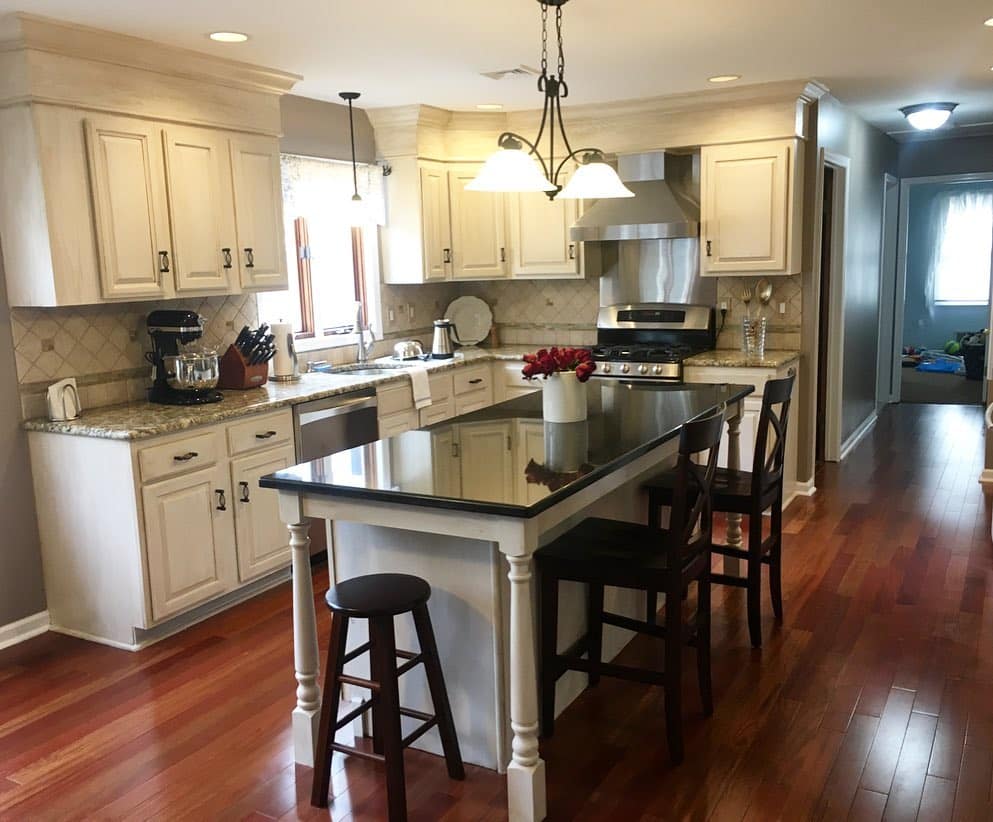 Kitchen island is an important part of the kitchen as it serves as an additional storage space, and helps in preparing and serving food. But you may be surprised to know that you can actually go wrong while picking the island for your kitchen. The wrong selection of kitchen islands can easily lead to wastage of a lot of space. Experts say that one should only consider adding islands to the kitchen when it's at least 8 feet deep and 12 feet long. Therefore, be really careful while picking the one for your kitchen as it can easily obstruct the flow of traffic to and from the kitchen.