Reading Time:
4
minutes
Lucky are those who have a balcony outside their apartment because believe us, there are so many people out there who literally yearn to have a balcony and consider it as a luxury. This is why you should never take your balconies for granted even if they aren't really working in favor of your home's aesthetic at the moment. No matter how small, tiny or blank your balcony is, with a little bit of sprucing, you can easily change the way it appears and make it look simply gorgeous. Surprisingly, there are a couple of ideas that you can use to transform your balcony into an outdoor paradise. And the best part, all the ideas are very easy to implement and are sure to give you a balcony space that you always dreamt of having. Having said that, let's find out all the different ways you can use to transform your balcony into an irresistible retreat.
Change Your Balcony Into An Outdoor Paradise With These Steps
Spruce up your balcony with patterns and textures
This is possibly the easiest way to give your balcony a needed makeover. Layer different textures and patterns to add more beauty to the space. Adding all different sorts of textiles allows you to create an outdoor space that looks as gorgeous and comfortable as your indoor room. Use outdoor fabrics to do the trick. Some colorful and patterned cushions and rugs will instantly add so much flair and comfort to your balcony whilst also adding a sense of liveliness to the space. Your safest bet would be using the fabrics that are not only functional but also have an aesthetic appeal to them.
Light it up with solar string lights
While candles are all cool and romantic and are the best at what they do but we have even a better option for you. Solar string lights are also a perfect way to create a magical space which just adds the right amount of lighting in the balcony and also sets the mood right. Plus, candles are a little hard to take care of as they can easily blow out with a knock of the wind. Whereas, these string lights are very easy to display and style depending on how you want your balcony to look.
Add a hammock
Turn your balcony into your favorite napping spot by adding a hammock in the space. We certainly don't think that there's any better place in your home than a balcony to add a hammock as who wouldn't like to hang out in an area that sees plenty of sun along with a considerable amount of fresh air. This not only makes your balcony look more cozy and cute but also adds to the overall aesthetic of your space and makes things work functionally as well.
Turn your balcony into a garden
If you have a green thumb and love being surrounded by greenery then you should definitely consider turning your balcony into your own garden. If your balcony space is a little too tight to fit any sort of furniture then it's best utilized for gardening that will not only add to the beauty of your space but it is also a very practical approach for decorating your balcony space. From vegetables and flowers to herbs and succulents, you have so many options to grow in your balcony's garden.
Use floor cushions instead of furniture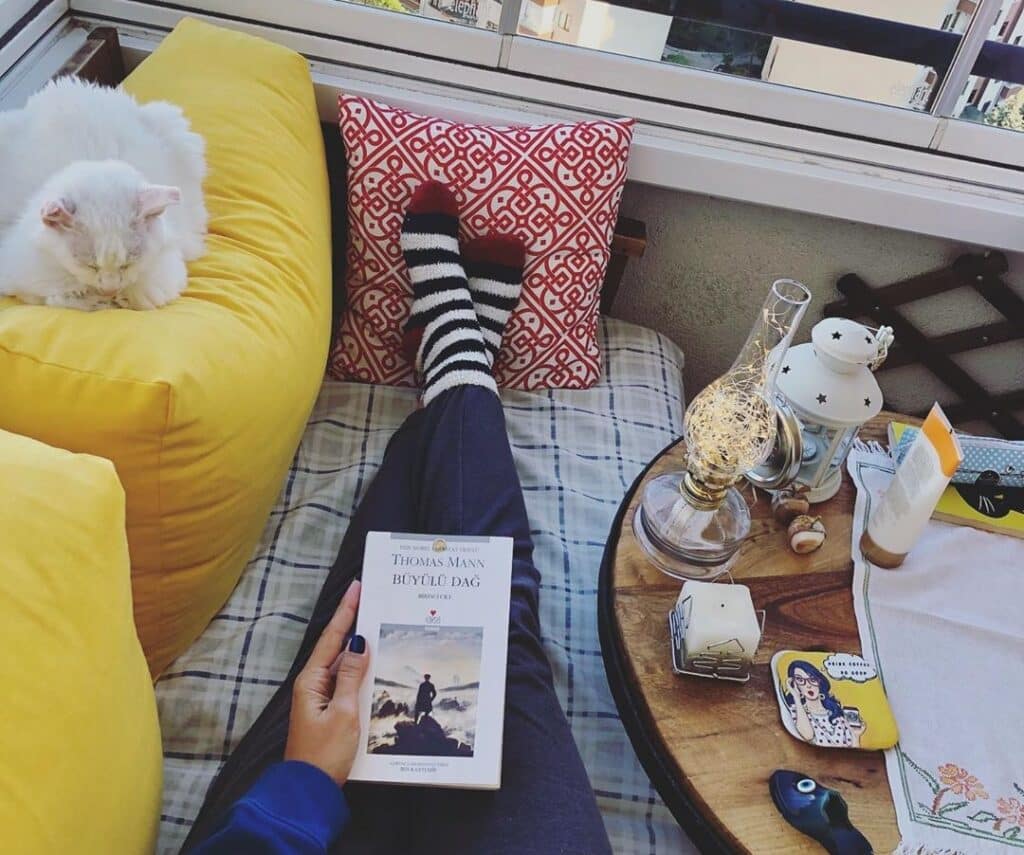 If you are a little tight on the space and cannot fit large furniture pieces then you can consider using floor cushions to create a cozy, comfy and eclectic outdoor seating in your balcony. For cushions, you can use weather-resistant fabrics and you can also get them customized as per your liking and the overall decor of your balcony. And if the balcony has a little room for one or two chairs then, by all means, you should use that space and incorporate additional seating in the balcony. Use bold and beautiful patterns to make your balcony look more eclectic and colorful.