Reading Time:
3
minutes
Why should you add rugs to your home? Here are the right tips for adding rugs to ensure a refined look for your house. Your rug's size should not be based on the size of your coffee table rather it can depend on the dimensions of your room. Rugs provide a refined look and cover the unwanted negative space in your room or living area. If you are an interior designer who is passionate about creating new designs and interior decor, then you are in the right place, here you will find amazing ideas for decorating your place. We believe that we are defined by the place where we live and it's our responsibility to create an atmosphere according to our attitude and behavior.
Tips For Decorating a Home with Rugs Are:
Shapes of The Rugs
Talking about rugs the first thing that hit you is the shape of the rug. There are several shapes that are found in rugs it depends on person to person how they want to adjust them. Rugs can be paired on the basis of the shape and size of rooms or furniture. For instance, if you want to add a rug to your living room or we can say your hall then the rectangular large-sized rug will go with the couches and the TV. There are many shapes like circular, rectangular, oval-shaped, squares, etc.
Material of The Rugs
Now comes the main thing that you should keep in mind while purchasing the rugs. Most people love to add those soft-furred mats to their homes. But there is so much more in the name of the material of these. Synthetic rugs are taking over all the trends going on because the texture of these rugs is different from every other rug, and they just make your feet feel so pleasured. After there the most famous and hand-crafted jute rugs are so famous, they look fabulous when paired with wooden furniture.
Pattern of The Rugs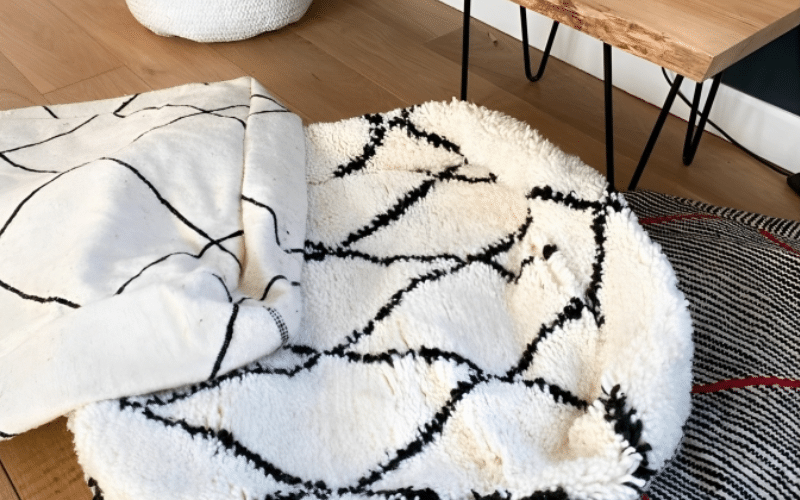 Rugs are treated as works of art these days. Every day a new pattern is out in the market. The rugs absorb sound and protect expensive things from breakage when dropped accidentally. When thinking about patterns the first one is Persian rugs then Oriental rugs, motifs, polyester rugs, and vintage rugs. The Persian rugs give a royal look to your home and make it look like new. The vintage rugs can be used to give a historic look to your home, you can add them to your study area or your personal library.
Color Combinations
Colors are the most important factor when deciding to decorate your home. In general, the bathroom area is always dull and boring so we can add bright-colored rugs to the bathroom. In darkened spaces, we can add basic plain dull colored rugs, so they become visible without light also. Talking about your bedroom you can add rugs matching your wall colors that will give a perfect look to your room. And one more thing you must adjust a rectangular rug on the side of your bed so when you get out of bed your feet don't feel the rough textured floor but rather the soft and relaxing rug.
Bottomline
You can also layer your rugs with larger carpets, for example, if you have a square-shaped carpet in your living area and now you layered it up with a wave-shaped rug from the corner, it will blow everyone's mind. And see rugs play an important role in upgrading your home's look. Rugs spread beauty in your house and besides that, it has many benefits which make your living area more comfortable and eye-catching. If you are getting confused about how to adjust rugs and carpets in your home here are the best tips to do so. Thank you for stopping by, Hope the information provided above helps you!