Reading Time:
3
minutes
Chandeliers are a necessity. We know, this sentiment is not quite agreed with but we are with you on this. They are magnificent, no matter what type they are, and they so elegantly beautify the setting they are placed in. So, if you are looking specifically to entertain your office setting with a chandelier or two, be with us till the end as we break down 5 unique types of chandeliers that will prove helpful in making the right choice. However, you will need to be extra careful with chandeliers matching your tone.
Here are the 5 best chandelier types for an office setting
Crystal
Style – Geometrical
Crystals are a timeless pick. This is because they never bore the eyes or lose their shine. Once they make a room, they stick to the vibe and keep delivering. The glittery outlook settles well with its surroundings but sizes and complexity, for the right reasons, decide on which one should be picked. For an office, we suggest this elegant crystal chandelier with a beautiful geometrical build which will give you an edge. This also runs smoothly alongside dark interiors, if you wish to keep them.
LED
Style – Sputnik
LED-based chandeliers are a contemporary approach to the age-old candle chandeliers. Here, we are specifically talking about the sputnik design of chandeliers. These appear like a star in the middle of the room with its various points going haphazardly in different directions. It has a variety with a symmetrical distribution of points and then there is an abstract arrangement too (with an LED at the end of each point). The shapes of the LED bulbs may vary, also the color.
Robust Metal
Style – Empire
Empire chandeliers offer the utmost grandiosity but hold on, we are not going there! We are focussing on a statement chandelier and a metal-based trimmed chandelier would make for a great ceiling décor because of its sleek and simple style. Its big size fills the empty ceiling, camouflages well in the setup, and looks upscale and smart. The empire chandelier can come bulky so choose carefully which frame will set the stage with minimum effort.
Read More: How to Decorate Your Office Space At Home
Reflective
Style – Shaded
This chandelier type fits best in a modestly-lit office room or hall. This one comes with a shade over the main light. But the shade is not made out of fabric, rather the covering consists of reflective glass or dangling glass bars. The light through the glass reflects wildly in many directions creating a sparkling effect. The shade is open from the bottom and the lights hang. This out-of-the-box concept is, no doubt, a wonderful pick for the office or your home.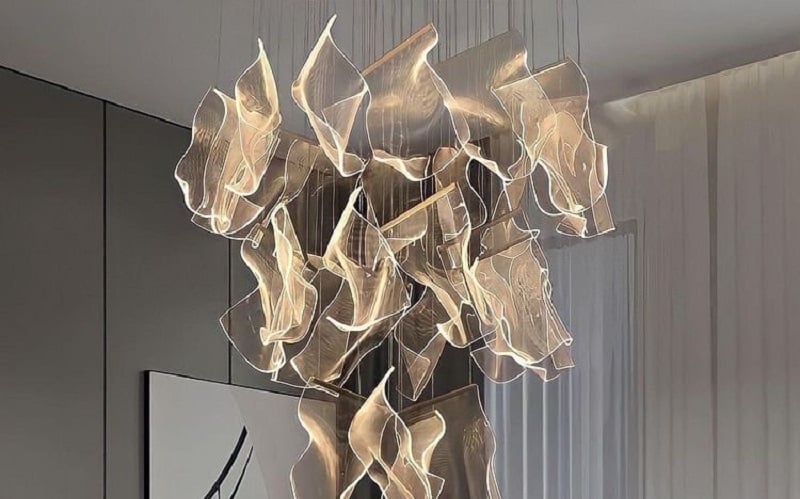 Classic Metal
Style – Colonial
Sleeker and sharper designs in chandeliers are modern in look and work best with less crowd. When you are picking this colonial-style chandelier, look out for the least number of arms and replace the wax candles with switch candles (of course). With a more polished finish and perfectly curved arms, these still look majestic yet not sophisticated. So, you achieve grandiosity without the gaudy appearance!
The chandelier types that we have discussed are broadly modest and contemporary because donning traditional or transitional or dramatic colonial chandeliers would be tough to fit into an official space. When you are looking out for simpler chandeliers, you can face a dilemma between ceiling lighting options and full-length chandeliers. Not all chandeliers come with light works! If your office setting enjoys more sun and white interiors, let the chandelier be a lone wolf, working its elements without in-built candles and not borrowing from the sunlight either.