Reading Time:
4
minutes
If you are passionate about transforming the lighting of your space, then there is nothing better than variation. Pick different types of light fixtures for your space and hang them in every corner to add character to that particular corner. Any kind of lighting has the ability to set the mood and so, here are some of our favorites!
Mood of your House With These Fascinating Lights
Exposed wire Pendant lights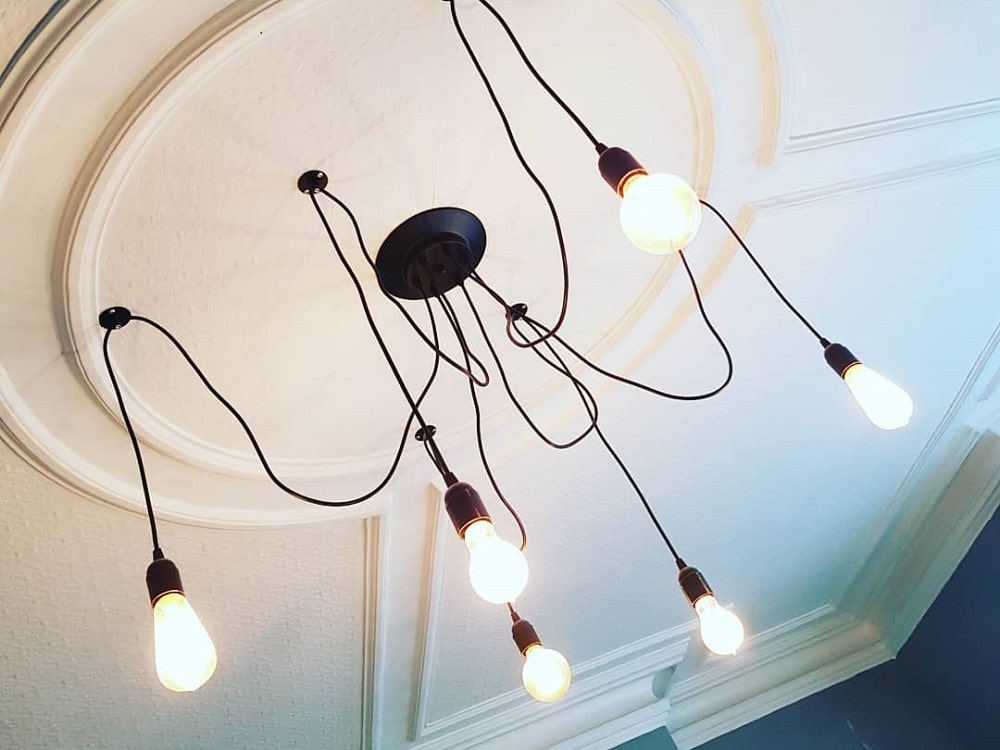 Pendant lights are the most common type in lighting and are widely seen in the ambiance of every home. They have been used since the bygone days and have become a staple in this particular category. If you had to choose something for your space that has a traditional feel to it and still matches the contemporary design of your house then this is it. This pendant light with exposed wires has so much charm to it that you would love to hang it in different corners of the house. Whether it is your living room, kitchen or even the porch area, these look pretty. The catchy feature of this lighting is the exposed wires and that looks raw and classic. These kinds of fixtures are usually seen in studios and artistic places to add a dash of personal touch. The wires are also suspended from the ceiling and the light is projected downwards, thus adding a decorative element to your space.
Cage lights
As the name suggests, these cage lights look exactly like the name. These are worth the aesthetics of your home because they are curated using different strings tied together to showcase a cage-like structure. With cage lights, you can not only upgrade the vibe of your home but you can also make way for a new projected direction of lighting. Usually spotted in a solid black base and different cords extending from one end to another, these cage lights are your way of contemporary living. The cage lights and the fixture of the cage lights are in an antique black or gold color. The bulb is placed right inside the cage for flattering lighting. The best thing about cage lighting is that it can be easily made at home as well. You can pick those cages that are meant for birds and hang string lights around it. This can be the perfect DIY for your gorgeous bedroom or living room. The antique Edison light bulbs are used in them for a vintage charm.
Read More: Smart And Attractive Tips For Decorating Terrace
Dandelion Chandeliers
The most exclusive feature of this lighting is the dandelion look. Dandelion word has been derived because of the fact that these lights almost look like flowers. They are literally the most gorgeous lights we have ever seen in any home decor category. The thing is that when it comes to fancy homes, one should always pick all those things that are unique and have some unique appeal in them. So, when it comes to dandelion lights, they are a set of pretty little lights hung together in a chandelier form. This little light pretty enough to be a flower is what will attract the people most in your house. They catch attention immediately and look like a ball of light hanging on the ceiling if your dining room. Offering a playful touch in the classic yet modern space of your house, this one is a must-have.
Multi-colored Glass lights
These don't even need an introduction because they have been super popular since the time of the 60s and 70s. Colorful glass hangings all over the area were the perfect way to add a dash of vibrancy to your space and make it look fancy and stylish. But today, they have started coming in many different shapes and sizes, thus depicting modernity and contemporary looks of a house. You can pick different sizes and shapes with multiple colors and prints all over the glass. This can also be done at home with the help of glass paints and can be added to any corner. You can use elongated water bottles for the same and can also pick old glasses. Simply paint them and hang them!
Multiple Edison lights
Just like track lights, these are supposed to be installed in plenty for a great impression. Edison lights have been a traditional piece of lighting but they are also versatile. Thus, they can be used almost everywhere and can be used to illuminate your space. Not just looks, but utility as well. Even for your kitchen cabinets or above the kitchen island, these lights can play a major role. Pick them in a traditional design and hang them together for a great effect.