Reading Time:
4
minutes
Whenever it comes to placing things in every corner of the house, most of the time we end up shoving them in the most stupid places. The reason for this is simple: there is no space or storage in the house. Whether you talk about the bedroom, kitchen or bathroom; each and every corner has the same problem of dealing with appropriate storage. But the trick here lies in being innovative so that your storage idea actually becomes a utility idea as well as a decorative piece in the bathroom. This might seem like a challenge but it is actually the easiest thing to do. Organization and cleanliness seem like a piece of cake if you know how to do things tactfully. Here are some really great ideas that will not only help you utilize bathroom space tactfully but will also make this space a luxurious one.
Place a big bathroom vanity
A bathroom vanity is one of the most stylish pieces in the entire range of bathroom accessories. The best thing about this bathroom vanity is that it is a great choice not only for storing your things but also for your bathroom aesthetics. Moreover, this bathroom vanity is seen in a lot of fancy designs nowadays and nearly all of them are pretty fascinating. So, if you are looking for an adequate storage idea for your bathroom, then this bathroom vanity is your perfect choice. It comes with an attached sink followed by a cabinet underneath. This cabinet can be used to place your bath accessories like towels, soaps and other cleaner formulas. These units let you store cleaning supplies in the neatest way possible. Choose the material of this vanity carefully and place it in an appropriate corner.
Wall niches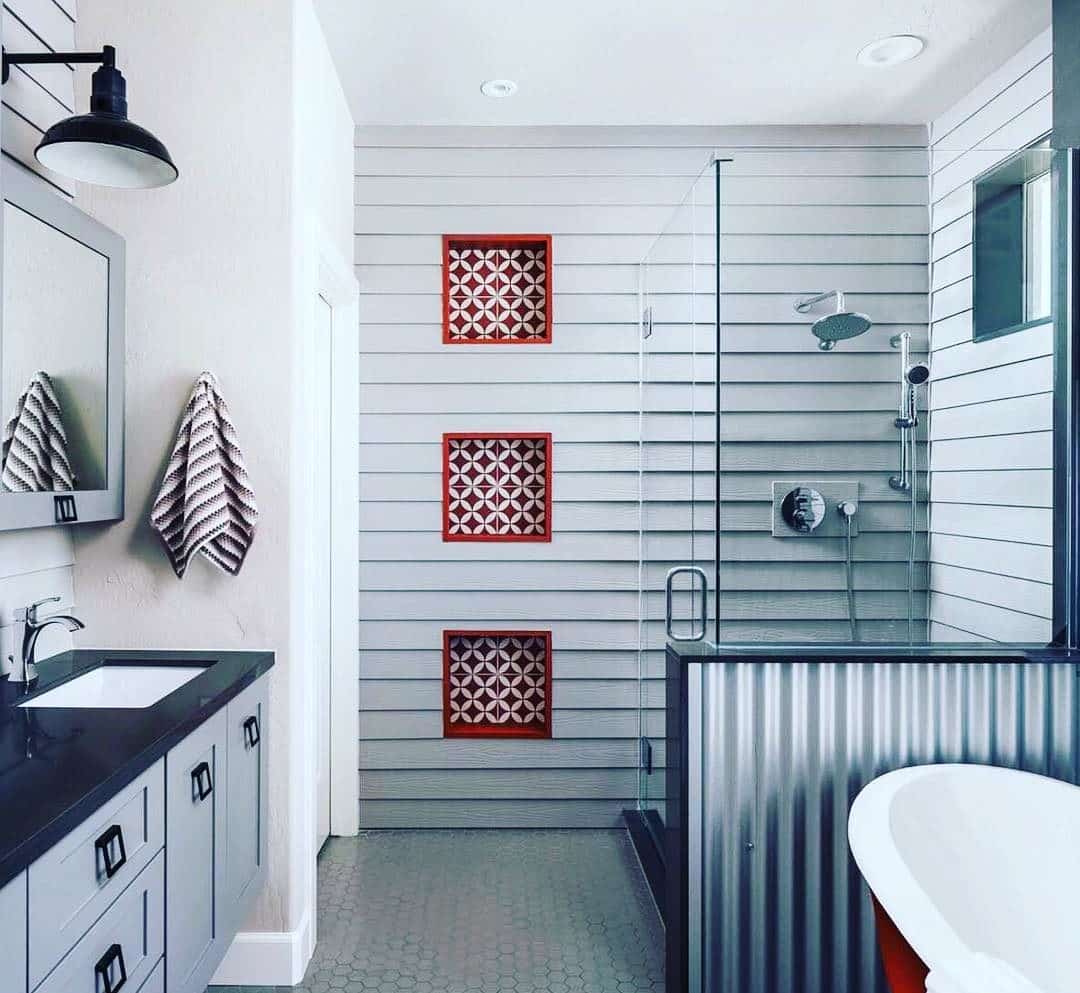 With the trend of recessed shelves, we came to the conclusion that sometimes they take a lot of space in the bathroom. Especially when the bathroom area is small, you cannot install recessed shelves because they will take up a lot of space. So the best way to have an adequate storage space in the bathroom is to have a wall niche. This is like in-built wall storage for your bathroom where you can place your supplies and other bath products. Here you can also place magazines, good reads, and a vase with fresh flowers to make your bathroom look pretty. This wall niche will neatly tuck all the items inside the wall showcasing them in the best way. Add quirky decor to this wall niche for a trendy look.
Mirror with in-built storage
This is literally an innovative idea to store things at the back of your mirror. When you will be going to buy the perfect vanity for your space, you will come across this classic piece as well. This mirror with in-built storage is the perfect way to store your essentials. All your important things are stored in this storage area and are not even visible. They are concealed from the human eye. This is the place where you should place your daily essentials like toothbrush, soap, tongue cleaners, comb, medicines, moisturizer, etc. and all other things that you need as soon as you step inside the bathroom. Surely, this is one of those classic bathroom storage ideas that have been prevalent since the olden days.
Corner Shelves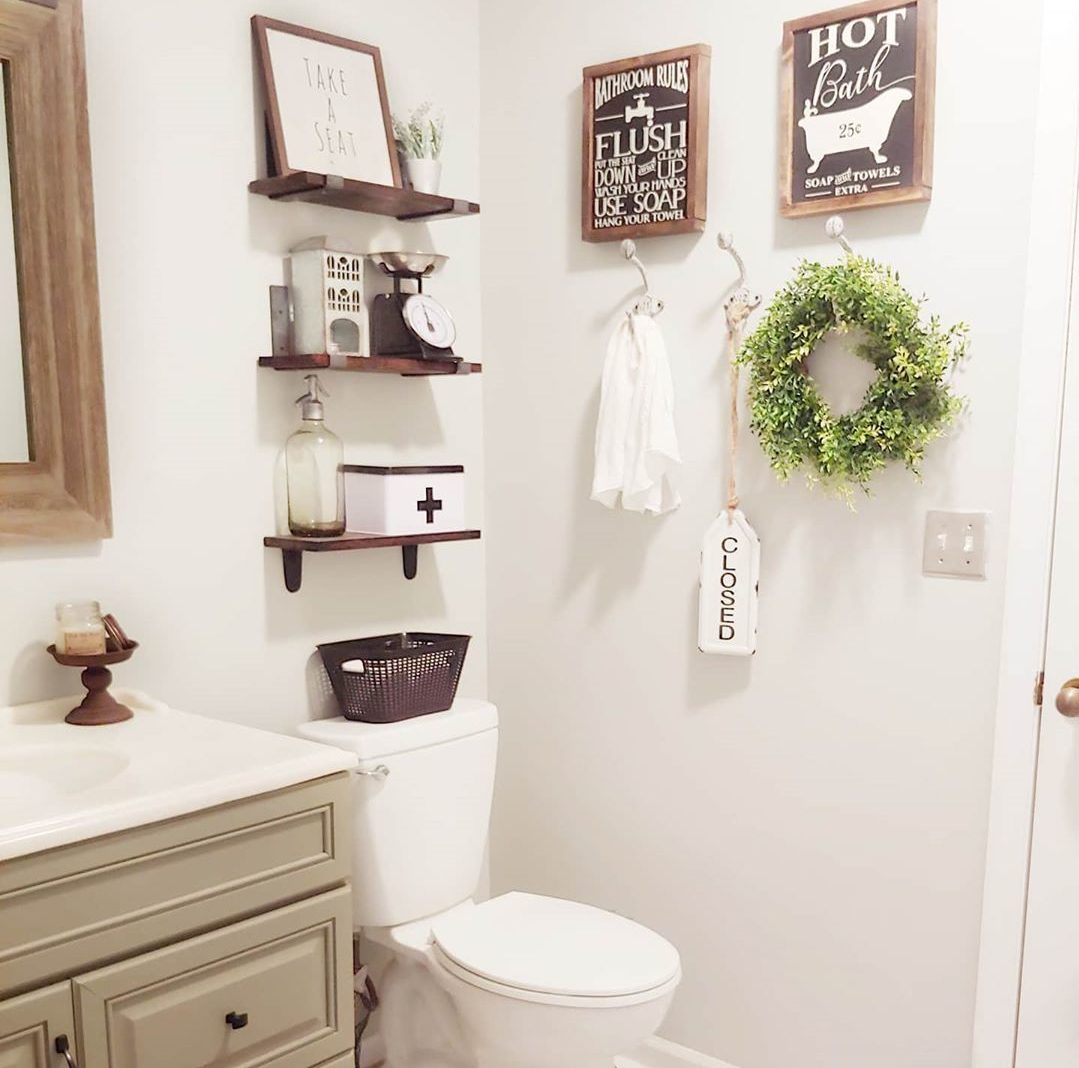 If you are not interested in wall niches, then the perfect storage idea for your bathroom will be this corner shelf. This corner shelf will not take a lot of space in your bathroom as it will be standing peacefully in the corner. This shelf will also be a great way to give a boost to bathroom aesthetics. Make sure that you pick this corner shelf in a wooden material so that it looks pretty. You can also hang some quirky decor things on it to add a vivid feel to this bathroom. A ladder-like corner rack will aid you in arranging your essentials as well as bath supplies along with interesting decor elements. Use this space ideally and make apt choices for your area.
Hang cane baskets
Cane is one of the most durable materials that can be used for any of your corners because firstly, it is pretty and secondly, it is great for storage purposes. Cane baskets hanging in one of the corners of your bathroom or overhead the seat is a great way to make your bathroom look luxurious and stylish. This idea doesn't require any structural changes also. All you have to do is hit a nail on the wall and hang them. These sturdy cane baskets hanging on the wall or on the window are good for storing your extras like towels and toilet rolls.