Reading Time:
4
minutes
Incorporating patterns into your home decor style is something that feels pretty intimidating but in actual it's not that big of a deal. With a little knowledge, you can learn the art of mixing and matching different patterns in the most effortless way in no time. All it takes is an understanding of some basic rules to learn to decorate with patterns. You don't need to feel intimidated anymore when it comes to playing with patterns as there are just a few significant things that you need to know to learn this art.
The first and foremost thing to consider while layering patterns is to combine prints in different styles and scales. We would like to emphasize more on the scale factor as it holds the greatest ability to make a difference in the way your space appears. For instance, a rug with beautiful and vibrant patterns helps to set a tone in the room which can further be spruced up by layering some additional elements such as throw pillows, furniture, curtains featuring contrasting or complementary patterns in small sizes which will help in boosting the visual interest of the room. We have listed some ideas for you that will help you to mix and match different patterns in your home beautifully. 
Ways To Decorate With Patterns
Add an oversized pattern rug to anchor the space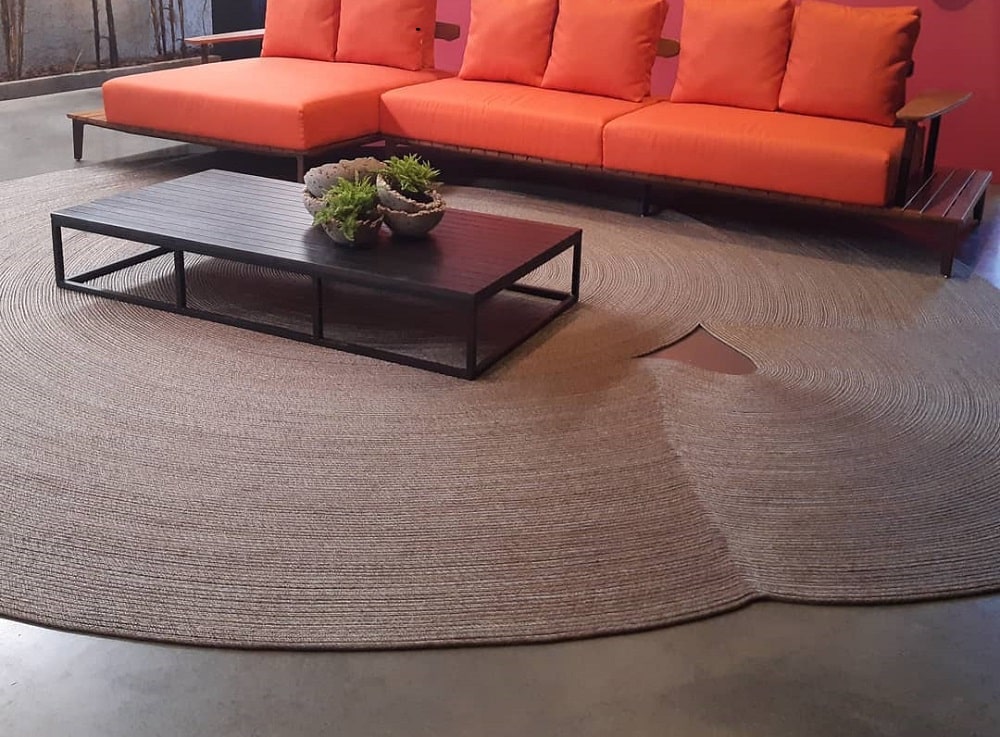 Not only rugs are a great way to boost the overall appeal of the room but they also are the most prominent element in the space. The rule of thumb is that to make any pattern look more prominent, that particular item should be used on the floor, which leaves us with no other options but a rug. A vibrant and beautifully patterned oversized rug can just be the missing piece in your room to create a smooth flow and make things look more unified in the room. You can further boost the visual interest of the room by adding some other elements like accent pillows in different styles and patterns on different scales. 
Layer two differently patterned rugs
To spice things up a bit in your living room, you can try playing with two rugs in different patterns to create the maximum impact in that space. This idea may sound a little intimidating, but if you can get it done the right way then nobody can stop you from making your living room the hero of your house. The scale of patterns must vary from each other in order to make the room look aesthetically pleasing. This will add drama and some personality to your space.
Use eclectic patterns for a colorful space
There can be nothing more cheery and vibrant than some colorful fabrics that can be used as gorgeous accents in your beautiful space. What can be a better option than throw pillows to do the job for you? This bold mixture of patterns helps in giving your space a happy hippy vibe. To make things look more interesting, you can consider adding a rug with small-sized patterns to neutralize the ongoing drama a bit. 
Go big with just one pattern
To make an impact, it's not necessary that you have to add as many patterns as you can in the room. Sometimes, just one big pattern is considered fine to do the trick for you. You can consider adding beautifully patterned wallpaper on the walls of your room. Look for eye-catching and dramatic design to intensify things a bit. Make sure to infuse the space with the colors that complement the design on the wall to make things look more cohesive. 
Additional read: Decoration for the Accent Wall of Living Room
Add patterned throw pillow for edginess
There's no hidden fact that patterns help to enhance the overall appearance of your house which is why adding them in the form of throw pillows sounds like a really amazing idea. Look for graphic throw pillows to boost the visual interest of the space and up the decor game in the room. Combine two or more accent pillows in different patterns to help add that edginess to your room.